There have been two big challenges with the Current Issues and Events contest: (1) keeping the contest questions current; and (2) reporting on something besides the White House.
News changes and evolves fast. Who is the defense secretary today? Have we started receiving communication from life on other planets? Has the Dow Jones Industrial Average gone up or down?
There are just wild swings in just about every aspect of the news from science to business to politics.
One of the dangers in writing the test is that I write a question with a specific answer today but by the time students take the test, the answer has changed.
For example:
The worldwide stock markets have been very bullish. By how much has the stock market increased this year? Well, it started the year at 23,346 and is at 23,879 as of Jan. 10. But if I had asked the question on Jan. 3, it was down to 22,686 and it looked like that downward trend might continue for a while. It didn't.
Given the instability of world markets and the political scene in the United States and abroad, it is particularly challenging to write questions on employment, the European Union, U.S. politics and the stock market, all areas that are valid for questions otherwise.
So, when studying for the test, consider how valid the news that you are reading today will be in a month or six weeks. Instead of memorizing minutiae, try to look for trends and things that are unlikely to have changed in the cycle of the contest.
Speaking of volatility and change, the White House presents its own unique challenges. I mean look at today's front pages (http://www.newseum.org/todaysfrontpages/).
Up here in North Texas: "Dems worry Barr won't check Trump"

Down in South Texas: "Texas border wall span"

In El Paso, West Texas: "Trump's address frustrates El Paso"

In Waco: "Trump walks out of shutdown talks"

In Texarkana, East Texas: "Shutdown talks end in walkout"
Trump. Trump. Trump. Trump.
The New York Times: "Trump walks out when Peolosi says no to wall funds"
On the New York Times' website now: "Trump arrives at border after suggesting he may bypass Congress on wall"; "Trump's threat of emergency could end crisis, but at what cost?"; "Mr. Trump canceled his trip to Davos, Switzerland, citing what he called the Democrats' intransigence on the shutdown."
USA Today: "Trump walks out of meeting"
I have no doubt that what one of the leaders of the free world does is news. Almost everything he does meets all six criteria for news: timeliness, consequence, proximity, prominence, conflict and human interest. When I'm writing questions I really look for those events that have some consequence on a lot of people. What our top elected leaders do has an impact on a lot of people. Right now, 800,000 people are working without pay, are furloughed or are placed on temporary leave as a result of the shutdown. Clearly it is having an impact.
However, as I've told students at Student Activity Conferences year after year, I will not have an entire test full of questions about Donald Trump. While it might be fun to try, such a test would fail to demonstrate the depth and breadth of current events knowledge and cultural literacy we all really want students participating in this contest to gain.
Even in my daily tweets (https://twitter.com/uilciande), it would be really easy to just retweet something from a mainstream outlet about what Trump, the Republicans or the Democrats have done today. But there's so much more going on in the world.
I mean look at what else is going on around us.
Humans have landed a spacecraft on the dark side of the moon for the first time. We've had a spacecraft leave the solar system. Global temperatures last year were the fourth highest. Texas legislators might actually legalize marijuana. A woman made history when she gaveled in the opening day of the Texas Senate. An openly gay man was elected the governor of Colorado, the first time an openly gay person has been elected governor of a U.S. state. A former high school teacher became the first black woman elected to represent Connecticut in the U.S. House of Representatives. The U.S. government will break a record for the longest shutdown in the nation's history.
Change is all around us. That change, those firsts, those innovations, they are all ripe for current events questions. Quite frankly, they are also a lot more interesting than some of the stuff going on in Washington, D.C. today.
Challenge yourself. Here are some good places to test your knowledge of current events.
ABOUT THE AUTHOR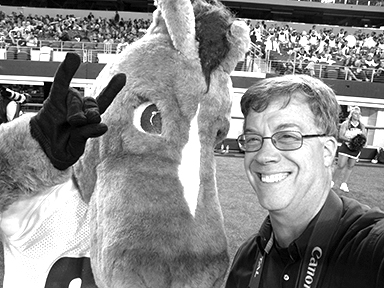 Bradley Wilson, PhD is Hexco's UIL CI&E Notes author, as well as the director of the UIL Current Issues and Events contest. As an assistant professor, Dr. Wilson teaches news reporting and advanced reporting. He is the editor of the national magazine, Communication: Journalism Education Today, for the national Journalism Education Association, and is the co-managing editor of College Media Review for the College Media Association. He has received the Gold Key from the Columbia Scholastic Press Association, as well as the Pioneer Award from the National Scholastic Press Association. College Media Association granted him the Distinguished Adviser Award for newspaper advising at a four-year college or university. Buy Dr. Wilson's UIL Current Issues & Events Notes today!