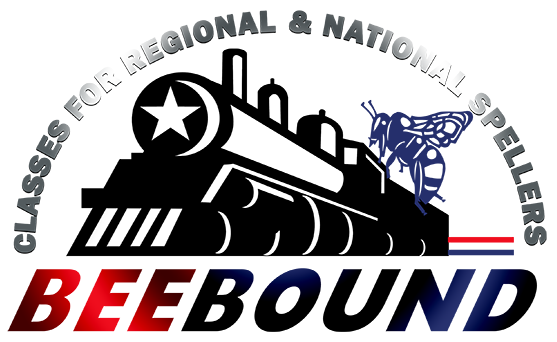 OVERVIEW
Bee Bound is an intensive 12-week regional and national e-prep course. This is the mother lode of material given for any Hexco course. This course is not focused on ONE competition but will cover the gamut of words from the beginning off-list ilk to the esoteric off-list ilk for regional and national competitions. The full course will be divided into two six-week/sessions for a total of 12 weeks. While we cannot require that you pay for all 12 weeks, we ask that you make that commitment with the understanding that the material will be divided over the 12 weeks with no overlap.

STARTS: Sunday, January 21, 2018
TUITION: $3200 for 12 sessions of online group coaching plus assignments.

Part I - 1st 6 Weeks - 6 Sessions - $1600*

Sign up for Part I now to get $200 off Part II! -

CLOSED - Now Underway

Part II - 2nd 6 Weeks - 6 Sessions $1600* -

CLOSED FOR ENROLLMENT



*Includes 1 hour of weekly group quizzing and group coaching (if classes reach eight or more students, sessions will be 1.5 hours in length). There is a minimum of three students and a maximum of ten students for this online course. You may opt to not use all of your sessions; however, you will not get a refund for unused sessions. A $400 non-refundable deposit is required to hold your child's placement in the course, and the remaining balance must be paid before your first session. Read more information here.

Our Coach – Jonathan Horton
Jonathan Horton participated in the National Spelling Bee in 2005, 2006 and 2007 achieving a nationwide placement of 22nd, 6th, and 8th place in each respective year. Since then, he has been coaching for Hexco for several years and has successfully coached many students to the upper echelons of the National Spelling Bee. He has obtained a Bachelor of Science from George Mason University as a double major in Applied Mathematics and Computer Science. He is currently working as a developer with a prominent company in Champaign, Illinois while coaching students for Hexco in his time off. His love and knowledge of words and their languages is deep. He enjoys working with his students by sharing his knowledge base and teaching them effective strategies that will help them build theirs.

CALL: 830.367.3825 or Toll free 800.391.2891 or fill out form online!
EMAIL: hexco@hexco.com
Thank you again for the coaching, the guidance, the access and the support! We are no less excited for our third year of participation in the Oral Bee and look at this as an ongoing wondrous journey for which we're grateful, regardless of outcome. Certainly for the word nerds in our family, this is a scintillating endeavor! ~C.L.
Personal coaching is non-refundable once you begin the program due to a limited number of slots available and the time it takes to customize sessions in advance. A non-refundable deposit is required.